Archive for the 'disability and theory' Category
There are some minor focus/organizational flaws in this paper, but the first three paragraphs about the OED's definitions of "retard" are very interesting–check it out if you guys have a minute. Have a good break!
The Evolution of "Retard"
Language changes.  We assign different meanings to words everyday by shifting a word's connotation—it is expected.   But layering a word's semantics creates a tension between the denotation and connotation of a word because a word can then encompasses a group of ideas, things, or people, whether it be depicted as pejorative or ameliorative.  This tension manifests within both reference frames because denotation, a word's literal definition, and connotation, the implications given to a word by past and present culture, form a semantic relationship that reflects the values of its community.  Because of this relationship, and because semantic shifts are inevitable, words are used differently in different contexts.  The term retard has gone through semantic shifts, pejoration, and generalization, and, because of its often slang use, misrepresents the neurodiverse community.
According to the OED, the term "retard" was originally used as a verb.  "Retarder," the word's first form, immerged from 12th century Old French as "to put off, delay (something), or to hesitate" (The Oxford English Dictionary).  The verb had temporal value, as in to delay an original point in time for a later point in time.  Not until the 13th century did the verb begin to refer "to slow[ing] something down, to delay or slow down the course or progress (of something)," or to "go more slowly" (The Oxford English Dictionary).  These definitions refer to the act of delaying time—it is not defined by the sense of something that is delayed. If it were, of course, that implication would be the word's connotation, not what the word denotes.  As a verb, it was not until 1344 until it was denoted as "to be slow, or to act slowly," which further shifted by 1690 as "to be delayed" (The Oxford English Dictionary).
Formed in the early 16th century, the noun "retard" avoided referring to the body or development for over a hundred years.  The etymology of the noun "retard" traces its origin to 1629 French.  The French defined "retard" as meaning a "delay" that eventually came to mean the "retardation (of the movement of a body)" in 1752 (The Oxford English Dictionary).  Because the noun form of the word was created close to the same time as its verb's semantic shift—from "to delay" to "to be slow"—one can infer that the noun's origin of "delay," if it does not share the same meaning shift of its verb, shares a same pejorative connotation.  Regardless, a noun formation formed after centuries of using its verb only proves that the word "retard" once denoted an action that then came to denote a specific object (and/or person).  This is especially important because, as per 19th and 20th century medical classifications, "retard" was never, nor is it defined, as medical.  The noun is currently defined by the Oxford English Dictionary as "the fact of being slowed down or delayed with respect to action, progress, or development […]"  In regards to its educational connotation, "retard" denotes "a child whose educational progress or level of attainment has fallen behind that expected for his or her age" (The Oxford English Dictionary).
The current connotations of "retard" are unfortunately the most used.  The educational connotation includes the failing attempts of attainment experienced by what should be an equally intelligent person.  This reference disables the person or object the noun is classifying, and "is generalizing not just to a group that shares a particular impairment, but to all people with significant limitation due to impairment—people with disabilities" (Anderson 1043).  This is especially pejorative to the cognitively impaired community because it reduces their neurodiversities to a word that denotes and connotes a slowness, as opposed to their brains working in contrast to what is defined as normalcy.  These generalizations or phrases "like 'wheelchair bound,' 'retarded,' or 'deaf and dumb' are no less oppressive than the lack of physical access since they mark how certain bodies [or minds] are interpreted and read" (Davidson 119).  Davidson's article "Universal Design—The Work of Disability in an Age of Globalization" highlights this verbal oppression and how the government can assist its use's victimization:
"Much of [his article] is reinforced by language in the Americans with Disabilities Act (1990) that recognizes that a person in a wheelchair becomes disabled when he or she encounters a building without elevators or when a sight impaired person tries to use an ATM machine without Braille signage.  It also recognizes that one may be equally disabled by social stigma" (Davidson 119).
Semantic shifts are governed by society and furthermore shed light to our societal values and structure.  As Davidson continues to argue, this "social model locates disability not in the individual's impairment, but in the environment—in social attitudes, institutional structures, and physical or communicational barriers that prevent full participation as citizen subject" (Davidson 119).  Calling a person a "retard" or referring to something or someone as "retarded" uses this social model and the act of generalization.  This process of categorizing persons with disabilities creates "the development of specialized treatments and residential and educational services, but also [establishes] and [reinforces] notions of the boundaries between normalcy and aberrance in Western society" (Braddock, and Parish 13).
Not only has the term "retard" been used to classify and/or categorize the neurodiverse, it is also used as a slang term.  The OED's current slang definition, or also described as the colloquial definition, defines "retard" as "a person (or occasionally a thing) regarded as being mentally or physically deficient, stupid, or incompetent."  This definition, and its overuse, has the most pejorative connotation regarding the cognitively impaired community because it undoubtedly attempts to "arrange people in ways that are socially and economically convenient to the society" (Linton 9-10).  We see this "convenience" in generalizing within the current medical terms used to label autism and asperger syndrome. Because autism and asperger's fall under the umbrella of neurodiversity, it is often generalized by the word "retard."  Because of the stigmas attached to the term "retard" and the similar stigmas attached to autism and asperger's, the Diagnostic & Statistic Manuel of Mental Disorders is (ironically) generalizing the two terms by embedding them both in the Autistic Spectrum Disorder. Reassigning meaning—or a word's semantics—is an attempt to "wrest control of the language from the previous owners, and reassign meaning to the terminology used to describe disability and disabled people" (Linton 9).
Because the term "retard" is unjust to the cognitively impaired community, Simi Linton—as well as other allies who are attempting to create a consciousness regarding the language used to depict the disabled community—wants a "new language."  This new language "conveys different meanings, and, significantly, the shifts serve as metacommunications about the social, political, intellectual, and ideological transformations that have taken place over the past two decades" (Linton 9).  Though this modification is specific to disability words, some shift is expected in all words.  Every word—whether through linguistic processes such as amelioration, pejoration, narrowing, etc.—has connotatively altered from its origin.  Not only is it expected, it is inevitable. However it is up to the community to replace generalizing and pejorative terms with applicable, appropriated terms that accurately depict the neurodiverse and physically impaired communities.
Works Cited
Anderson, Jill C. "Just Semantics: The Lost Readings of the Americans with Disabilities Act. (Cover story)." Yale Law Journal 117.6 (2008): 992-1069. Academic Search Complete. EBSCO. Web. 8 Dec. 2010.
Braddock, David, and Susan Parish. "An Institutional History of Disability." Handbook of Disability Studies. (2008): 11-68. Print.
Davidson, Michael. "Universal Design; The Work of Disability in an Age of Globalization." Disabilities Studies Reader. 2. (2006): 117-128. Print.
Linton, Simi. "Reassigning Meaning." Claiming Disability: Knowledge and Identity. (1998): 8-33. Print.
"retard" The Oxford English Dictionary. 2nd ed. 1989. OED Online. Oxford University Press. 4 Apr. 2000
It's All in Your Head? Psychology, Problems, and Progress
Disability theory, like any major theory, aims to rethink, revise, or even remove prevailing stereotypes, practices, and policies about people with disabilities. Many theorists have focused on physical disability, which is often more easily understood than cognitive disability – or at least more easily observed – by the nondisabled majority. For people with cognitive disabilities such as autism, however, the real lived existence and the theoretical conceptualization of cognitive disability is much more complicated. Facing social, cultural, and economic isolation; disabling representations; and rigid and biased diagnostic systems in psychology, people with cognitive disabilities can, however, find power and progress in self advocacy, institutional revisions, and progressive discussions.
Nowhere is the isolated and disempowered reality of cognitive disability more readily evident than in Charlotte Perkins Gilman's "The Yellow Wallpaper." The story's nameless female narrator is married to John, a doctor. According to John, the narrator has "but temporary nervous depression – a slight hysterical tendency" and nothing more (Gilman). Within the story, Gilman critiques the medical model of disability through the nameless woman's journal entries. One critique focuses on the often cold and un-empathetic mindset of clinicians. "John," the narrator says, "does not know how much I really suffer. He knows there is no reason for me to suffer, and that satisfies him" (Gilman). Here we can see one of cognitive disability's primary problems: while physical disability or illness is readily assessed by sight or some sort of physical or visual diagnostic, cognitive disability is difficult to visualize, assess, or even validate. Gilman's narrator feels increasingly isolated and disempowered because, as she writes in her journal, "Nobody would believe what an effort it is to do what little I am able…to dress and entertain, and order things" (Gilman).
Another critique of the medical model is that it rarely listens to the voices and wishes of patients. In "The Yellow Wallpaper," John tells his wife to take "phosphates or phosphites… and tonics, and journeys, and air, and exercise" and he also forbids her to do work until she is well (Gilman). Despite John's prescriptions, the narrator does not improve. Rather, she finds John's treatment to be ineffectual. She says, "Personally, I disagree with their [John and her brother's] ideas. Personally, I believe that congenial work, with excitement and change, would do me good. But what is one to do?" (Gilman). Ultimately, John ignores her requests. Ultimately, the narrator goes mad and John and the medical model fail. Here we can see – or, rather, hear – how cognitive disability can silence a person's voice more severely than a physical vocal disability might.
Gilman's story might not seem to be an effective means to power social, political, or theoretical change for people with cognitive disabilities. However, as Rosemarie Garland-Thompson proposes in her critical essay, "Disability and Representation," narrative representations of disability – in our case, cognitive disability in "The Yellow Wallpaper" – are important because "the way we imagine disability through images and narratives determines the shape of our material world, the distribution of resources, our relationships with one another, and our sense of ourselves." For Garland-Thompson, then, and for people with cognitive disabilities, disabled narratives and images drive progress in the real world.
One such example of progress is in the self advocacy of people like Ari Ne'eman and Amanda Baggs, who both have diagnoses on the autism spectrum. Ne'eman, founder of ASAN, the Autism Self Advocacy Network, argues that autism and other cognitive disabilities are a natural form of human variation. This concept, neurodiversity, is a central part of ASAN's mission to "advance the principles of the disability rights movement in the world of autism" (Autism). ASAN, in contrast to groups like Autism Speaks, supports education, self advocacy, and accommodation instead of only cures or medicalized treatments. Like many other advocacy groups, ASAN also seeks to overthrow prevailing stereotypes and inaccuracies surrounding autism. Ne'eman, in his essay, "Dueling Narratives," argues that "the prevailing popular image of the autism spectrum" is "defined by family members of autistic children and medical professionals" (Ne'eman). These perspectives, according to Ne'eman, have "negatively impacted both parents and people on the spectrum" (Ne'eman). Returning to Garland-Thompson's earlier argument, these "prevailing popular images" that Ne'eman criticizes have serious implications for people with disabilities and the nondisabled as well. Self advocacy and self representation, thankfully, are becoming increasingly common.
Amanda Baggs, the creator of several YouTube videos chronicling her ideas about disability and her life as an autistic person, is a prime example of self representation and self advocacy. Baggs argues in "Up in the Clouds and Down in the Valley – My Richness and Yours" that "autistic people are not a special kind of people set apart from all other people" because "oppression and injustice take depressingly similar shapes" (Baggs). Her point here is that people with autism, like people with cognitive disabilities or disabilities in general, face the same social and cultural hurdles as other disempowered groups. Using a colonial/post-colonial mindset, we might think of people with disabilities as living under the "rule" of nondisabled society. Disabled individuals have limited access to goods and services, diminished political power, and misrepresentation in media, as do subjects in a colonial environment.
What, then, created this unequal and arguably oppressive environment for people with disabilities, specifically people with cognitive disabilities? A lot of previous discussion has focused on a social or cultural root of disability stereotypes, disempowerment, and representation. There is, however, a much deeper origin. Much of the struggle and critical debate within disability theory can be traced to the basis of our conceptualization of ability/disability, which is psychological research. The American Psychiatric Association's Diagnostic and Statistical Manual of Mental Disorders, or DSM-IV, provides the backbone for defining, diagnosing, and constructing cognitive and affective disabilities. The DSM itself is based on years of psychological research and statistical evaluations of cognitive functioning.
Reducing human beings to statistical figures, as research for the DSM does, is a complicated practice. Statistics can dehumanize people by reducing them to "normal distributions" with scores of their traits or behaviors falling within several "standard deviations" from the mean score. As David Mitchell and Sharon Snyder argue in "Cultural Locations of Disability," for many years "disabled people have served as the relics or obscene curiosity disguised beneath the neutral veil of empirical inquiry" (193).  Statistical significance in this case can be a blessing for a researcher and a bombshell for a patient. However, research and statistics can be beneficial in that they preserve anonymity for research participants, control for bias, and provide an effective standardized method for defining, studying, and perhaps treating cognitive disabilities. Without statistical research and diagnostic manuals, treatment would not exist and it would be difficult to secure disability services or accommodations without an officially documented diagnosis.
Psychology itself, not just its research, has also had a long and morally problematic history. At one time hysteria was defined as a female disorder; the origin of hysteria is the Greek term for uterus. Gendered disorders and politically complicated ones, such as the now nonexistent diagnosis of homosexuality as a mental disorder, have not done much to benefit the image of psychology in the eyes of critical theorists. There has been and there is still an absence of a disability perspective within psychology. This could be explained by Mitchell and Snyder's argument in "Cultural Locations of Disability," that professions like psychology "have always imagined their commitment to disabled people as their primary value, and hearing that disabled people – particularly those in disability studies – do not necessarily share this sentiment often comes as a shock" (191-192).  Clinicians and researchers often lose sight of the humans they treat and study behind Mitchell and Snyder's "neutral veil of empirical inquiry" (193).
There is, however, hope. To begin with, psychology has constantly evolved in response to critical evaluations and new theories.  For instance, homosexuality is no longer considered a mental disorder and the current DSM is under revision to reevaluate its definitions of several major disorders. The new DSM-V, according to its website, seeks to "develop criteria for diagnoses that not only reflect new advances in the science and conceptualization of mental disorders, but also reflect the needs of our patients" (DSM-5).  The American Psychological Association, or APA, has also sought to reduce bias in psychological publications. In the latest Publication Manual of the American Psychological Association, there are new sections for researchers and clinicians such as "Be Sensitive to Labels" that provide advice on how to avoid "condescending…patronizing and offensive" terminology and how to utilize "people-first language" (76).
With the APA currently revising its standards for research, writing, and treatment, people with cognitive disabilities can take heart. While there are still many glaring inequalities imposed by lingering unfair research and clinical standards, socio-cultural isolation, and misrepresentation, the work done by disability theorists, self advocacy groups like ASAN, and the aforementioned APA revisions is helping to create a major power shift. People with cognitive disabilities and disabilities in general, are finding voices of their own through typical and alternative media and advocating an adjustment of current and unequal practices and policies.
Works Cited
American Psychological Association. Publication Manual of the American Psychological Association. Washington: APA, 2010. Print.
Autism Self Advocacy Network. ASAN. n.d. Web. 23 November 2010. <http://www.autisticadvocacy.org/modules/smartsection/category.php?categoryid=8>.
Baggs, Amanda. "Cultural Commentary: Up In The Clouds And Down In The Valley: My Richness And Yours." Disability Studies Quarterly 30 (2010): n. pag. Web. 24 November 2010.
"DSM-5: The Future of Psychiatric Diagnosis." American Psychiatric Association DSM-5 Development. APA. n.d. Web. 23 November 2010. <http://www.dsm5.org/Pages/Default.aspx>.
Garland-Thompson, Rosemarie. "Disability and Representation." Publications of the Modern Language Association of America, Vol. 120(2). PMLA. 2005. 522-527.
Gilman, Charlotte Perkins. "The Yellow Wallpaper."  University of Virginia Library Electronic Text Center. UVA. n.d. Web. 23 November 2010.
Mitchell, David T. and Sharon L. Snyder. "Dueling Narratives: Neurotypical and Autistic Perspectives about the Autism Spectrum." Dueling Narratives.
Ne'eman, Ari. "Dueling Narratives: Neurotypical and Autistic Perspectives About the Autism Spectrum." The Society for Critical Exchange (2007): n. pag. Web. 23 November 2010.
I'm taking Great Masterworks this semester and just last week that class and this dis/lit class overlapped.  We were learning about, you guessed it, Beethoven!  In class my professor cited Beethoven's 5th Symphony a result of overcoming his disability, which was becoming deaf (in case you didn't know).  Since we have a blog for that class too, I decided to post on this issue.  And here's my post (ignore the first paragraph, we had to give our musical history).  My professor went over some of our posts in class and she did inform me that there is a branch of musicology that is looking into how disability has affected music.  So I just thought I'd let everyone know that musicians are among the many who take disability into account in their studies!
"Thus, like the formal Vice, Iniquity, I moralize two meanings in one word."
Richard, Act 3.1 line 82
In this quotation, Richard parallels himself to vice.  This has led many readers to believe that Richard is the personification of vice, or immoral conduct, throughout the play.  Because Richard is disabled, this implicitly links vice with disability.
This connection of vice and disability is also discussed in Sharon Snyder's article "Infinities of Forms" through Andreas Mantegna's painting "The Triumph of Virtue."  This painting depicts a beautiful goddess expelling a variety of disabled figure from the garden of virtue.  Because they are being ushered out of the garden of virtue, it is implied that they represent the opposite of virtue, which is none other than vice.  Snyder also informs us that "the otherness of their figures serves as proof that the appropriate culprits have been identified and properly sentenced" (190).  In other words, the appearance of those being expelled validates their expulsion.  This equates vice to disability in a similar way in which the disabled Richard is implicitly equate to vice.
Another idea that Snyder suggests in reference to the painting is the saying "a sound mind in a sound body" (190).  If this is believed to be true, then the opposite must also be true.  Those who are being exiled from the garden of virtue clearly do not have sound bodies and therefore it is assumed that they cannot have sound minds.  This idea can also be applied to Richard.  From the beginning of the play, readers discover that Richard has a disfigured body.  In keeping with the above saying, this might set up a reader to expect Richard to be an un-sound character.  The reader might then go on to read the play with the expectation that Richard will be some kind of impulsive mad-man solely because he is disabled.  Or if they have already read the play, they might use the equation of vice and disability to justify, or at least provide explanation for, Richard's actions.  One might even say that Shakespeare was being wholly unoriginal by presenting a character with a disability as a character full of vice.  Perhaps it would have been more shocking if Richard was a disabled representation of virtue.
I do not wish to support nor deny the legitimacy of the reader that fosters any preconceived notions or justifies Richard's actions because of his appearance.  Nor do I wish to suggest that the equation of disability and vice is a solid one.  I only wish to suggest that if the equation is believed to be true, there is a possibility for the reader to understand this text in the ways I have presented above.
Can anyone think of other ways the connection between disability and vice could affect a reader's interpretation of Richard III?
On the very day we were discussing readings by Siebers and McRuer, and trying to find a better e-text of Richard III for next class, who should post to the DS-HUM listserv inquiring about bibliographies on Shakespeare and disability but Tobin Siebers!  And who should reply but Robert McRuer!!  Here's his post:
 HI Tobin, Marcy, and all…
I am certainly not a Shakespeare specialist in any way!  However, I do have
a piece coming out in the Duke UP volume called (I believe) Shakesqueer:
Queer Theorists Read Shakespeare, edited by Madhavi Menon.  Although
Shakespeareans and early modern studies folks are part of the project,
largely it is intended as a book written by non-specialists: she assigned
every Shakespeare play (and the sonnets) to one queer theorist and we were
invited to write a very brief essay from whatever perspective we brought to
the play, with transtemporal and interdisciplinary thinking encouraged.  I
agreed to participate on the condition that I could have Richard III. So,
there's an essay in that volume, coming out in January, I think.  the piece
is called "Fuck the Disabled: The Prequel."
Robert
Also, here's a link to a piece on R3 from one of the numbers of Disability Studies Quarterly last year, entitled "Enabling Richard: The Rhetoric of Disability in Richard III", part of a special section on Disabled Shakespeares
In the Tobin-Siebers article assigned for today, Tobin/Siebers offers:
"Some theorists have gone so far as to argue that pain remaps the body's erotic sites, redistributing the erogenous zones, breaking up the monopoly of the genitals, and smashing the repressive and aggressive edifice of the ego" (177).
Does someone want to tackle this for me? I'm having trouble grasping what this is supposed to mean.
I found this while stumbling a little while ago, and I thought it would be great to show an updated version of what Garland-Tomson shows in her articles. These pictures feature Jes Sachse, a 25 year-old Canadian college student with Freeman-Sheldon Syndrome. She took the pictures as a project in order to parody the American Apparel ads, who claim that the girls that they feature are "normal, every day girls"—despite the fact that nearly every ad features a similar body type.
I'm going to quote Sasche directly here, because what she says is better than anything I can do, and I think it encompasses what we've read perfectly. Sasche says, "What I hope comes of this is that people view disability differently  and see that people with disabilities are sexual. So many people are trying to come to my aid and protect me from being exploited and they want to prevent disabled people from living their lives…This idea of who is beautiful and what's sexy that we see in the media all the time isn't necessarily what beauty is to me or to you."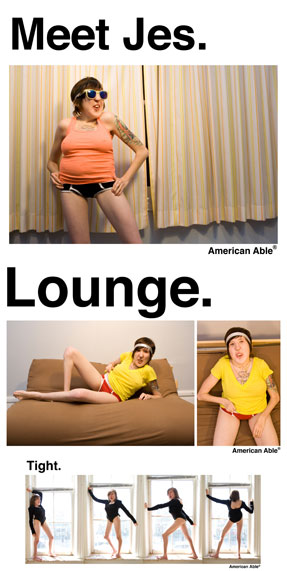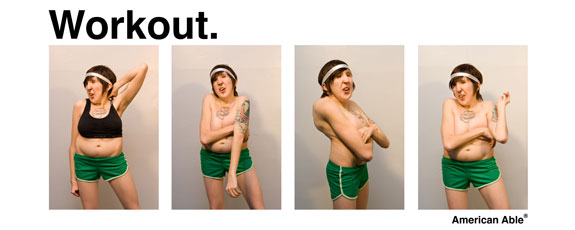 Perfect.
Today we analyzed images from Lady Gaga's Disability Project (see link for more images) as a follow-up to our readings by Rosemarie Garland-Thomson.  Any further comments?
Wondering what you guys thought about the parallel between sex/gender and impairment/disability that I brought up in class.  Perhaps I can articulate it a bit better here on the blog.
A social model of sex/gender would tend to promote the idea that the two sexes are biological facts.  Genders, however, are "social constructs" that have no essential truth to them but rather came about as a result of tradition, stereotype, discrimination, and power dynamics.  A social model of disability, similarly, might propose that impairments are biological facts, but disabilities come about as the result of social norms also brought about by power dynamics, tradition, stereotype…etc.
A cultural model of sex/gender might question the validity of our strong belief in two biological genders.  For example, 1-2% of children are born intersex, and are usually given surgery in infancy so they fit the traditional dichotomy.  This implies that the essentialism of even our two-sex binary may be fictitious.  A cultural model of disability would challenge the notion of a normalized idea of body or brain that sees any deviations from it as impairments.
What do you guys think about the social and cultural models?  Are ideas like essential normal bodies and sexes ideas worth preserving?  Cultural models seem quite radical, but they might be ways of thinking that will get people to start deeply questioning their conceptions of the world.  Sometimes though, when too many essentialisms are questioned a system runs the risk of running too close to postmodern obscurity where it seems as though anything and nothing could be true.  As we move out of modernism we have to make sure that we're moving into something that is still coherent.
On the other hand, I'm not sure we've really moved out of modernism…here is a link to a recent article from NPR that a friend sent me on facebook.  Though the content is certainly interesting, the way it is framed, I find, incredibly offensive.  (Also, every disability-related article I read lately seems to be obsessed with the idea of evolutionary explanation.  Have we really come that far from the age of Social Darwinism?) The article sets up a serious us vs. them dynamic from the outset, and it puts a weird distance between the person whom the article is about and the reader.  For example…
"But Daxer says these things are still very difficult for her. So she has become something of an amateur anthropologist, studying the social behavior of the people around her, the people she calls neurotypicals."
It makes her seem really "alien" by saying "the people she calls neurotypicals" as though she has made up this word on her own.
The worst part of the article though is by far the introduction:
"It takes a smart brain to invent a spaceship. But putting one in orbit takes a brain with extraordinary social skills.That's because getting from concept to launchpad takes more than technology — it takes thousands of people agreeing on a common goal and working together to accomplish it.Humans have succeeded in part because we evolved a brain with a remarkable capacity for this type of complex social interaction. We automatically respond to social cues and facial expressions.  We can look at the world from another person's point of view. We are predisposed to cooperate. But all these things are so much a part of us, they're easy to take for granted. Unless you have autism, like Lisa Daxer."
I was flabbergasted reading that part, but perhaps I'm over-reacting?  I'd love to hear what you guys think.
I really enjoyed reading the Berube article for class today and I think that one of the reasons was because I was particularly drawn in by the very detailed examples of close readings (or viewings in the case of Dumbo and Finding Nemo) of several works of fiction across the genres. I thought that maybe I would provide one more example for the class. While reading this article I was suddenly struck with a "light bulb" that illuminated the purpose of the character Stevie from Joseph Conrad's The Secret Agent. The character of Stevie has some unnamed cognitive impairment (the novel being set in the late 1800's) that has kept him in a perpetually childlike state of mind. This is a prime example of society casting the disable in an infantilized image. In his article The Cultural Framing of Disability: Telethons as a Case Study, Paul Longmore quotes historian Robert Dawidoff as having said, "Beyond race, gender, ethnicity, sexual orientation, disability is a culture-wide metaphor for the vulnerable, the pitiable, the weak, and thus unacceptable and panicking in an American culture in which identity is formed in constant fear of the loss of autonomy." Stevie is a grown man but is treated like a child by his elder sister who takes care of him. Although he is near thirty years old, he is continually referred to in the diminutive "Stevie" rather than "Steven", is made to leave the room when grown-ups are talking and is sent to the kitchen where he spends all of his free time drawing circles with a compass.
Major plot points even center around this "obsessive infantilization" (Longmore) of Stevie. Anyone who has ever spent a god bit of time around very young children will have noticed that they (particularly up until about the fifth grade) have a very strong sense of what is right and wrong and what is fair and even stronger still is their desire to make sure that the wrong is corrected and fairness is always observed. The novel opens with in scene in which a man blows himself up in the middle of a park but then does not address the bombing for several chapters as we are introduced to the characters. While being introduced to Stevie, the reader finds that he once set off fireworks on the steps of a law office where he was doing errand boy work because the other errand boys convinced him that their bosses were bad men. He has a mental and emotional breakdown mid-story when he begins to reprimand a cabbie for whipping a poor horse. After having recovered, Stevie relapses when he has a conversation with the same cabbie that destroys Stevie's faith in the goodness and righteousness of the police and the moral order of society. It is later revealed that Stevie was the man who killed himself in the park. This dire action is the result of his having spent too much time in the company of the underground society of anarchists of which his brother-in-law is a head. Stevie's intense desire to see justice served and help the afflicted brings him to believe he must take action and is easily convinced and used by the anarchist society to set the bomb (his death was, however, unintentional).
Stevie is not only used by the other characters in the story, but is also used by Conrad. Stevie serves the narrative in the capacity which Berube describes as "an index of everyone else's moral standing, offering the other characters opportunities to demonstrate whatsoever they might do to the least of their brothers." Furthermore, Stevie is a literary device used to cause the reader to reflect upon the fatality of trust in order, society, and government. Stevie's idealistic notions of right and wrong and belief that everyone else is a pure of mind and intention as himself leads to his death and so, Conrad suggests, might our own if we do not question those in authority over our lives. So, here we yet another example of an author using a disable character to meet his own literary means and ignoring the implications he is making upon that identity group in doing so.