Archive for the 'garland-thomson' tag
I'm taking Great Masterworks this semester and just last week that class and this dis/lit class overlapped.  We were learning about, you guessed it, Beethoven!  In class my professor cited Beethoven's 5th Symphony a result of overcoming his disability, which was becoming deaf (in case you didn't know).  Since we have a blog for that class too, I decided to post on this issue.  And here's my post (ignore the first paragraph, we had to give our musical history).  My professor went over some of our posts in class and she did inform me that there is a branch of musicology that is looking into how disability has affected music.  So I just thought I'd let everyone know that musicians are among the many who take disability into account in their studies!
I found this while stumbling a little while ago, and I thought it would be great to show an updated version of what Garland-Tomson shows in her articles. These pictures feature Jes Sachse, a 25 year-old Canadian college student with Freeman-Sheldon Syndrome. She took the pictures as a project in order to parody the American Apparel ads, who claim that the girls that they feature are "normal, every day girls"—despite the fact that nearly every ad features a similar body type.
I'm going to quote Sasche directly here, because what she says is better than anything I can do, and I think it encompasses what we've read perfectly. Sasche says, "What I hope comes of this is that people view disability differently  and see that people with disabilities are sexual. So many people are trying to come to my aid and protect me from being exploited and they want to prevent disabled people from living their lives…This idea of who is beautiful and what's sexy that we see in the media all the time isn't necessarily what beauty is to me or to you."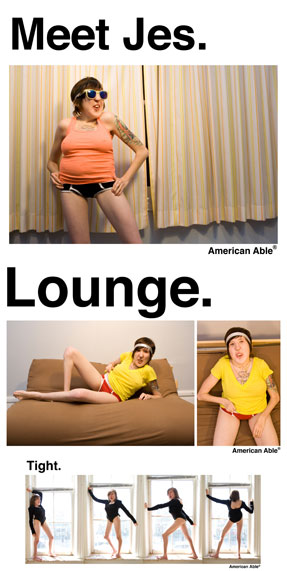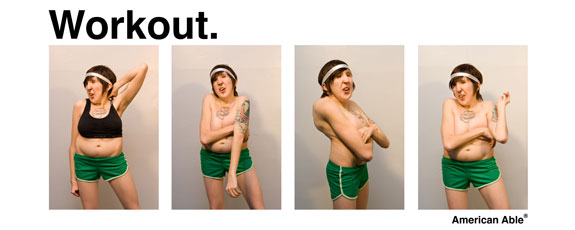 Perfect.
Today we analyzed images from Lady Gaga's Disability Project (see link for more images) as a follow-up to our readings by Rosemarie Garland-Thomson.  Any further comments?