Archive for the 'empowerment' tag
This is the poem of which the Flying Words Project video is meant to be a loose translation. Scroll down to pg. 194 on Google Books to read it!
Hello, everybody! I know we aren't really talking about autism right now in class, but I thought I would put this up here anyway as an interesting resource. One of my friends from high school, Alex Plank, founded a website called Wrong Planet when he was, I think, a senior and I was a freshman. The website began as a support forum for the people and families affected by autism spectrum disorders: Alex and his younger sister both have Asperger's, an ASD characterized by difficulty with social interactions and very narrow areas of interest. Since then, the website has grown hugely and gotten a great deal of publicity. The two biggest features up until recently were the forums themselves and the articles about different things to do with Asperger's and autism.
In April, Alex started doing a video series for Autism Awareness Month  (April, if you were wondering) that discussed relevant and interesting things going on in the autistic community. Alex is a filmmaker by trade and a very naturally humorous person: he's a lot of fun to watch. This is a link to Autism Talk TV Episode 1: there are nine more on the website that you can find if you have a click around on there.
BBC News has a website that "reflects the lives and experiences of disabled people" with links to news and opinion articles, video content, music, and even a humor section by and/or about disabled people.
Upon first glance, however, the title of this site caught me off guard. The title? It's "Ouch!"
What does "Ouch!" mean? Here's an excerpt from the site's conveniently labeled, "What is Ouch!?" tab:
Oooh, good question. We spent literally months trying to come up with a name that wasn't too patronising. When the marketing team came up with "I dance to my own song" as a good idea for a name, we ran away from the meeting. We're still on the run.

The site's editor, Damon Rose, came up with the name Ouch! one morning in the shower. He says: "There's an Ouch! moment when you become disabled or give birth to a disabled child. There's an Ouch! moment when someone gets into the lift, catches the eye of a disabled person and then quickly looks away. There are many Ouch! moments when people just see disability as a problem, when in fact we're part of the solution."
Damon Rose has a very compelling point; this is a very good example of the concept, "Nothing about us without us."
Thoughts?
I found this while stumbling a little while ago, and I thought it would be great to show an updated version of what Garland-Tomson shows in her articles. These pictures feature Jes Sachse, a 25 year-old Canadian college student with Freeman-Sheldon Syndrome. She took the pictures as a project in order to parody the American Apparel ads, who claim that the girls that they feature are "normal, every day girls"—despite the fact that nearly every ad features a similar body type.
I'm going to quote Sasche directly here, because what she says is better than anything I can do, and I think it encompasses what we've read perfectly. Sasche says, "What I hope comes of this is that people view disability differently  and see that people with disabilities are sexual. So many people are trying to come to my aid and protect me from being exploited and they want to prevent disabled people from living their lives…This idea of who is beautiful and what's sexy that we see in the media all the time isn't necessarily what beauty is to me or to you."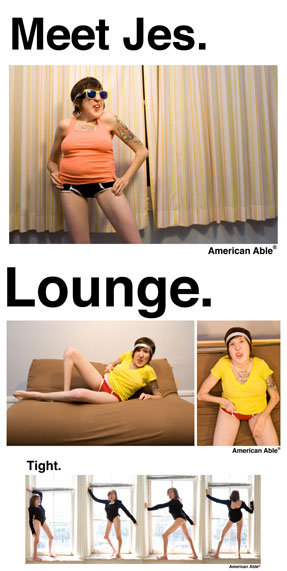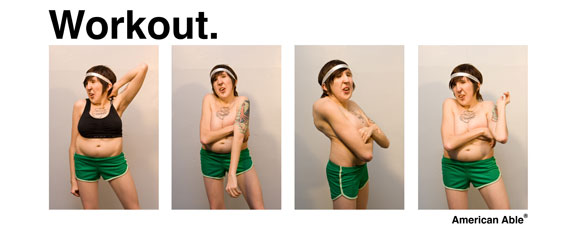 Perfect.